I get pretty excited about pretend play and it isn't unusual for me to engage colleagues at length in a conversation about how it can be incorporated into a learner's home program using naturalistic behavioral methods. I can go on and on about all of the various play schemas that can be taught, my observations regarding which play schemas are of the greatest interest to the learner's peer group at the moment, and regular items from around the house that can be incorporated as props.
The Hooray for Play! cards break down all of this information into a framework that is easy to reference and remember. Additionally, the simple illustrations provide visual stimuli to facilitate conversation about various schemas, to prime a student before play begins, or to help facilitate choice during pretend play. However, it isn't long into our conversation when my colleagues ask, "What about the data?" Of course, this is where the conversation ends up because in an ABA program, all decisions are data-driven and based on observable and clearly defined target behaviors. However, with something as fluid as pretend play, it can sometimes feel a bit daunting to break the play down into smaller parts without scripting it completely.
The Hooray for Play! Data Sheets allow for the most salient elements of a play schema to be taught while still leaving room for variation and flexibility, which can be critical when generalizing to peers. Additionally, the targets are not predetermined so that they can be individualized for the learner. Below, you will find an example of the data sheet with some rows filled in to illustrate what it might look like. A blank version is also available in the set, so that it can be individualized for a specific learner.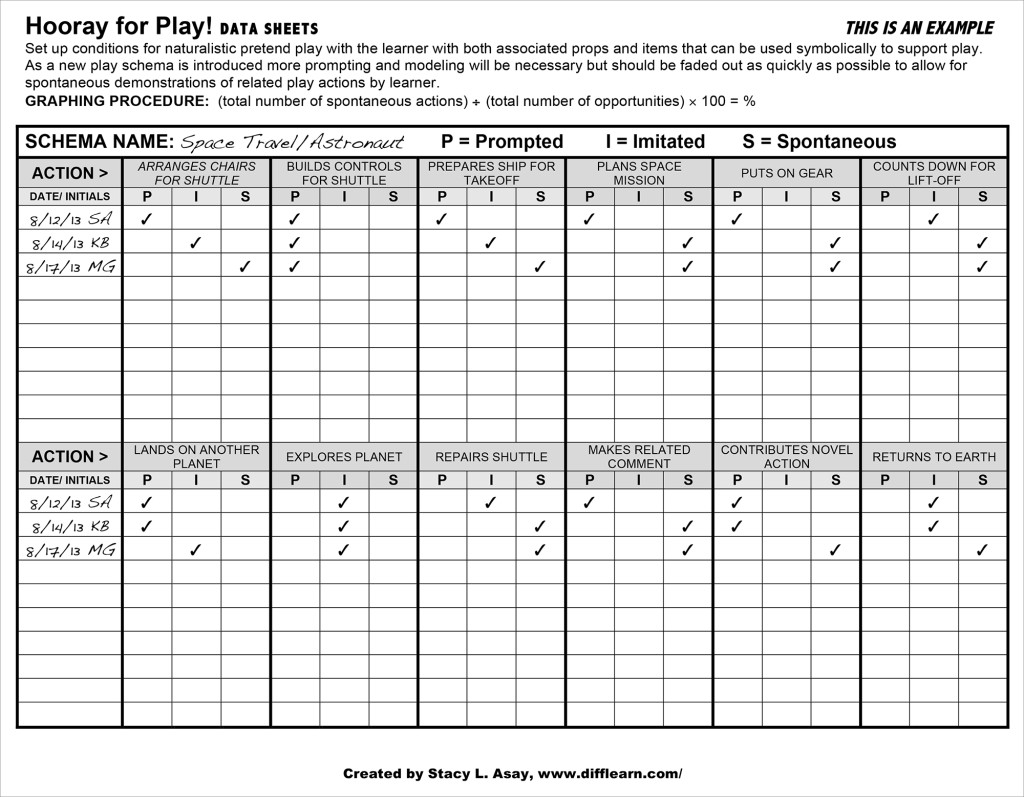 There are a variety of techniques founded in the science of Applied Behavior Analysis that are effective in increasing and improving play skills. Research-based procedures can range from very structured to more naturalistic and should be chosen based on an approach best suited for the learner.
Some examples include:
Video Modeling
Play Scripts
Pivotal Response Training (PRT)
Peer Training
References:
Charlop-Christy, M. H., Le, L., & Freeman, K. A. (2000). A comparison of video modeling with in vivo modeling for teaching children with autism. Journal of Autism and Developmental Disorders, 30 (6), 537-552.
Goldstein, H. & Cisar, C.L. (1992). Promoting interaction during sociodramatic play: teaching scripts to typical preschoolers and classmates with disabilities. Journal of Applied Behavior Analysis, 25, 265–80.
Koegel, L.K., Koegel, R.L., Harrower, J.K. & Carter, C.M. (1999). Pivotal response intervention. I: Overview of approach. Journal of the Association for Persons with Severe Handicaps, 25, 174-85.
Stahmer, A.C. (1999). Using pivotal response training to facilitate appropriate play in children with autistic spectrum disorders. Child Language Teaching and Therapy, 15, 29–40.
Pierce, K. & Schreibman, L. (1997). Using peer trainers to promote social behavior in autism: Are they effective at enhancing multiple social modalities? Focus on Autism and Other Developmental Disabilities, 12, 207–18.