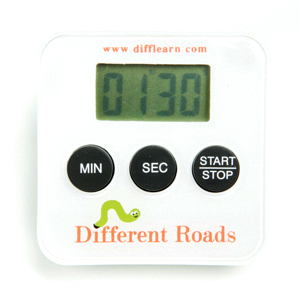 Keep your student on schedule with our popular Auditory Timer, and get yours for $7.95 only $5 this week (37% savings)! Enter promo code TIMER5 to redeem your savings at check out!
Our versatile white Auditory Timer can count both forwards and backwards, up to 99 minutes. The timer also counts seconds, and beeps when time has elapsed. You can also set it to go off in increments, such as every 5 minutes, with the simple push of one button. Press "START/STOP" to begin or stop timing. Then press both the "MIN" and "SEC" buttons simultaneously to reset the time. The personal timer also has a magnetized clip on the back so that it can be attached to pockets, belts, or the refrigerator. Only 1 AAA battery required.
Don't forget—you can get your Auditory Timer for only $5 this week (37% savings) by using promo code TIMER5 at check out!
*Offer is valid until 11:59pm EDT on July 15, 2014. Not compatible with any other offers. Be sure there are no spaces or dashes in your code at check out!