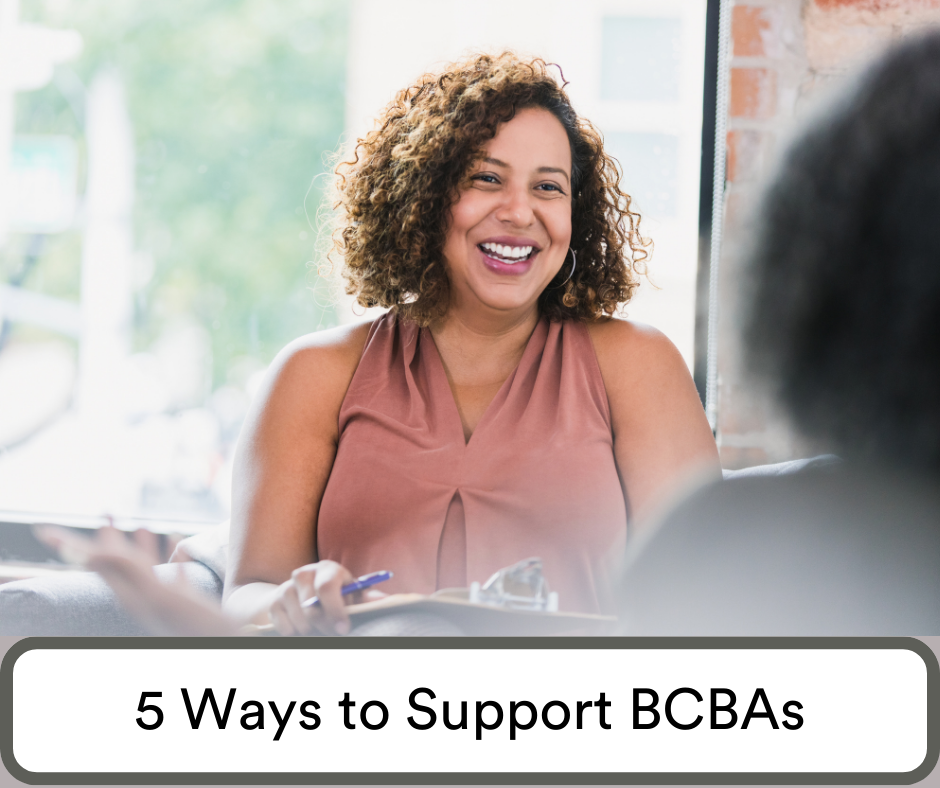 By Ashleigh Evans, MS, BCBA
Board certified behavior analysts (BCBAs) are instrumental in the development and oversight of ABA services. Working in the ABA field can be incredibly rewarding, but also isolating and exhausting. One recent study found that 72% of ABA professionals experience moderate to high levels of burnout. Burnout can have serious implications for the individual, their clients, and the organization as a whole. One of the leading risk factors for burnout is a lack of support. By supporting your BCBAs, you can greatly reduce the risk of burnout in your organization. Let's review 5 ways you can support your BCBAs.
1. Provide Access to Stimuli, Technology, and Assessments
BCBAs need many things to be successful in the workplace. Data collection software and other forms of technology can greatly improve efficiency, streamline administrative tasks, and increase job satisfaction. Similarly, providing access to teaching stimuli can make a BCBA's job much easier, allowing them to spend less time creating stimuli and more time doing what matters most–caring for their learners.
2. Seek Feedback
Supervisors and employers regularly provide their employees with feedback on their performance. However, it's important to remember that employers should also seek feedback from their employees, including their BCBAs. Feedback should always go both ways.
Just as ABA clinicians are continuously growing and improving, so should employers and organizations as a whole. While you may not be able to please every staff member all the time, seeking feedback from your team shows that you value their input and are motivated to improve the working conditions of your organization. Encourage open and honest feedback, but also create a system for anonymous feedback, as your staff may feel more comfortable providing feedback anonymously.
3. Encourage a Healthy Work-Life Balance
While your BCBAs have dedicated so much of their lives to this field, their life revolves around more than solely work. Ensure your BCBAs have a healthy work-life balance. You can do this by establishing working hours and encouraging boundary setting outside of those hours. For example, if your BCBA's work day ends at 5 pm, they should not feel obligated to answer client or staff phone calls after this time. A healthy work-life balance also includes taking time off. Encourage and honor your staff's requests for time off.
4. Provide Opportunities for Continuing Education
Continuing education is a requirement of the Behavior Analyst Certification Board (BACB) for biennial recertification. The field of behavior analysis is vast and is constantly evolving. Ensuring your BCBAs have access to high-quality CEUs to expand their knowledge, keep up with the literature, and grow as clinicians will benefit your BCBAs, their learners, and your organization. It will also show them that you value their professional and personal growth.
5. Set Realistic, Data-Driven Expectations
When setting workplace expectations (i.e., billable hours), ensure they are realistic and manageable. Furthermore, determine what is needed to help your BCBAs achieve these expectations and ensure you are providing support in those areas.
ABA professionals know the importance of following the data when making treatment decisions. This should extend into business practices as well. When establishing and modifying expectations, let the data lead the way. Let's use billable hours as an example. Imagine you need to establish a billable hours expectation for your BCBAs. Using a behavior analytic approach, you would first identify the baseline number of hours that your BCBAs are currently achieving. If they have been successful at 20 hours/week, but you want them to hit 25 hours/week, approach this as you would with a client. Reinforce systematic approximations toward your end goal! You could first increase the expectation to 21 hours/week, then gradually increase the expectation as your BCBAs are successful.
Supporting your BCBAs using the above recommendations may significantly improve your BCBAs' job satisfaction, improve client outcomes, and ultimately benefit your practice.
Resources
Camille Plantiveau, Katerina Dounavi & Javier Virués-Ortega (2018) High levels of burnout among early-career board-certified behavior analysts with low collegial support in the work environment, European Journal of Behavior Analysis, 19:2, 195-207, DOI: 10.1080/15021149.2018.1438339
Slowiak, J. M., & DeLongchamp, A. C. (2021). Self-Care Strategies and Job-Crafting Practices Among Behavior Analysts: Do They Predict Perceptions of Work-Life Balance, Work Engagement, and Burnout?. Behavior analysis in practice, 15(2), 414–432. https://doi.org/10.1007/s40617-021-00570-y
About the Author
Ashleigh Evans, MS, is a Board Certified Behavior Analyst. She has been practicing in the behavior analysis field for over 13 years and opened her own independent practice in early 2022. Her experience has been vast across different age groups, diagnoses, and needs. She is passionate about improving the field through education, reformative action, and better supervisory practices, leading her to create content and resources for families and ABA professionals which can be found on her website, www.evansbehavioralservices.com/.