You Are a Social Detective! Interactive CD teaches children ages 7-12 to become better social thinkers by putting on their detective hats and deciphering both expected and unexpected social behavior. This week, we're offering a 15% discount on the You Are a Social Detective! CD to help parents and professionals introduce the Social Thinking® Vocabulary to their students. Enter the promo code BLOGDTV4 at checkout to save 15% on your purchase this week.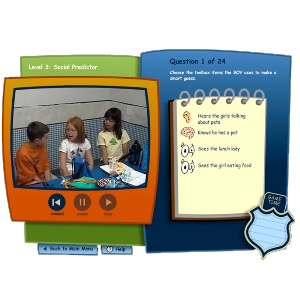 Users will rely on their social "tools" — their eyes, ears, and brains — to make smart social guesses and investigate clues to see how others' emotions and responses are connected to their own behavior. The program has 6 exciting levels with more than 200 video prompts to break down social situations into functional terms, including:
Understanding Others' Comfortable/Uncomfortable Thoughts
Understanding Others' Expected/Unexpected Behaviors
Guessing Others' Thoughts and Emotion
Making Smart Guesses
Using Your Tool Box Items (Eyes, Ears & Brain)
Using Social Mapping
The software uses interactive video scenarios of real students to engage the user to answer questions, make smart social guesses and establish outcomes. All entries are scored over time so parents and educators can track progress and customize levels.
This software is compatible with Windows 98 or above and MAC OS X or above.
*This offer expires on October 1, 2013 at 11:59 pm EST. Not compatible with any other offer. Be sure there are no spaces in the promo code at check out!