Oftentimes, people do not communicate a complete message; they assume their listeners are also interpreting important visual information. Help students learn how to determine the "true" meanings of messages and improve their critical thinking, auditory comprehension, and inferencing skills with our newly added inferencing card decks: Look, Listen & Infer and the Inferencing Big Deck. And this week only, take 15% off* your order of either or both of these inferencing decks, by using promo code INFER14 at check-out!
Look, Listen & Infer is a 56-card illustrated set that will teach students to infer the meaning of a message by both listening to a statement or question, and also looking at the picture for important visual cues. One side of each card shows a colorful illustration of the scene. The other side presents the scene and asks, "What should you do next?" followed by three possible answer choices, one of which is correct.
The Inferencing Big Deck features 100 large 5″ x 7″ photo cards that contain a short story along with with six follow-up questions to help children improve their ability to correctly inference. The color-coded topic areas include: Associations (These items belong to…); Identify the Setting (Where is this?); Part to Whole (What is it?); Predicting (What happens next?); and What Happened?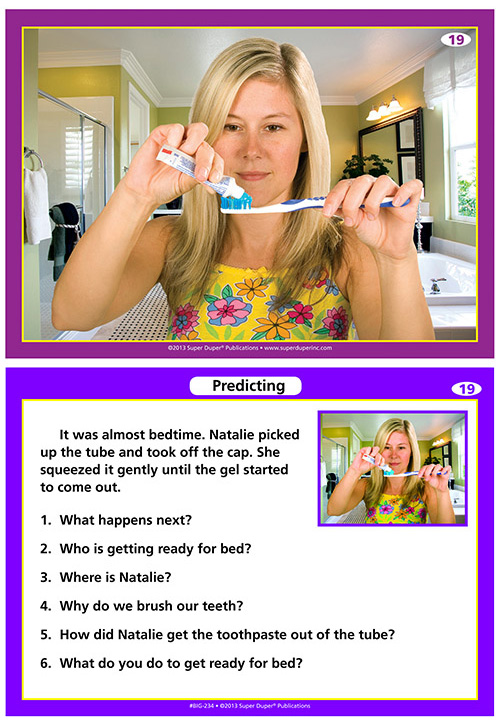 Don't forget – you can save 15%* this week on your order of Look, Listen & Infer and/or the Inferencing Big Deck by using code INFER14 at check-out online or over the phone!
*Offer is valid until 11:59pm EDT on October 21st, 2014. Not compatible with any other offers. Be sure there are no spaces or dashes in your code at check out!