Maintaining calm and focus can be a challenge in a busy classroom. Our solution? Help reduce fidgeting and reward good behaviors with these sensory tools for staying calm and focused: the Fidgets Kit and Reinforcer Kit. For this week's Pick Of The Week, save 20% on these items by using promo code FOCUS20 at checkout.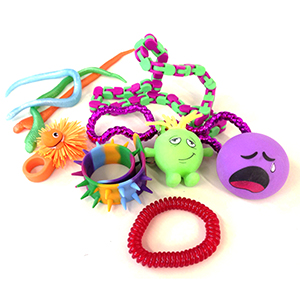 Fidget toys can be a great and socially acceptable management tool for stereotypical or repetitive behavior in the classroom or community that may be distracting to classmates. While there are many reasons for fidgeting, including sensory overload, boredom, frustration, or anything in between, the good thing is that it can be easily managed. Some students find the repetitive action of "fidgeting" to be calming; thus, they are then better able to focus on the task at hand. Created in conjunction with our behavioral consultant Stacy Asay, LMSW, our Fidgets Kit includes an array of tools that provide a variety of sensory experiences: stretchy, chewy, spiky, twisty, bumpy, twisty, clicky, bouncy and smooshy!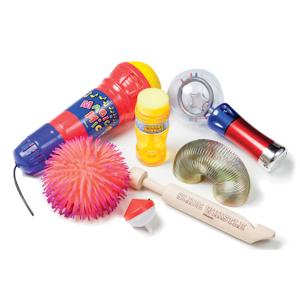 Our Reinforcer Kit provides a selection of products that many children diagnosed with autism would not only want to play with but would be willing to "work for" during their one-on-one intervention. Although teachers can always use praise, food, candy and other toys, we think this bright and colorful kit of tools will help our families get a head-start on what to use for children wanting a favored object. The kit includes:
Spectra Spinner (battery operated)
Wooden Slide Whistle
Magic Mic (an Echo Microphone)
Magic Spring
Squishy Flashing Ball
Jelly Ring
Bubbles and more!
*Promotion is valid for one-time use through September 20,  2016. Offer cannot be applied to previous purchases, combined with any other others, transferred, refunded, or redeemed and/or exchanged or cash or credit. Different Roads to Learning reserves the right to change or cancel this promotion at any time. To redeem offer at differentroads.com, enter promo code FOCUS20 at checkout.