This week, we're pleased to share a piece from Kirt Manecke, author of one of our newest additions Smile & Succeed for Teens, who offers his advice and take on how to teach teens and tweens very important social skills such as handshaking and saying "please," "thank you," and "you're welcome."
Please, Thank You, and You're Welcome:
Teaching Social Skills to Teens on the Spectrum
by Kirt Manecke
Saying "please", "thank you", and "you're welcome" are extremely important for social and job interactions. Why then is it so rare to hear these words spoken by teens and tweens? I recently had breakfast with my friend and his two kids, who are 12 and 16, at a restaurant. Both kids frequently failed to say please, thank you or you're welcome to the waitress. I found myself saying thank you to the waitress for them! Their father did not seem to notice their lack of manners.
Research from Harvard University (Deming, 2015) says social skills are the top factor for getting a job. In my former life, when hiring teens for my specialty retail business, I looked for friendly teens with good social skills. Teens who smiled and said "please" and "thank you" were often the ones I hired. I knew they could engage customers and keep them happy and coming back. Often, we are drawn to making friends with people who have these same good social skills.
Social skills are especially difficult for teens on the autism spectrum, but many of these skills can be learned, and with practice, can become habit. Social skills are critical to make friends, get a job, and to live a fulfilling life.
Recently I helped some teens and tweens with autism prepare to sell products at a local farmers' market. I acted as the customer in the initial role playing scenarios and found that the kids did not say "please", "thank you" or "you're welcome". I then used information from my book Smile & Succeed for Teens: Must-Know People Skills for Today's Wired World to teach them these skills. We took turns being the customer and the employee while role-playing how to say "please", "thank you" and "you're welcome". Using their new social skills, the kids were able to sell chips and salsa at the local farmers' market the next day.
You can do the same type of role playing with your kids. To improve their social skills, role play the skill with them. For example, have your teen or tween read the section, "Shake Hands Firmly." Then, practice shaking hands with them, being sure to show them how "Too Tight", "Too Loose" and "Just Right" feels.
I spent nine months meeting with teens to get their input for the book, and that's a big reason teens and tweens find it appealing and are reading it. The font is large enough to make reading easy, plus there are fun, informative illustrations with educational captions every few pages.
Since, the book has received praise from teachers and school administrators, as well as Temple Grandin, author of Thinking in Pictures, and The Autistic Brain, who called me one evening after reading Smile & Succeed for Teens. She urged me to use her testimonial, "Smile & Succeed for Teens is a fantastic resource to help teens be successful at work", to get the book out to all teens and tweens.
A firm grasp on social skills is key to maneuvering through all stages of life. Mastering these skills boosts teens' confidence and gives them the skills they need to succeed in school, work and relationships. Please share the following book excerpt with your teen or tween to give them a head start in mastering these important social skills.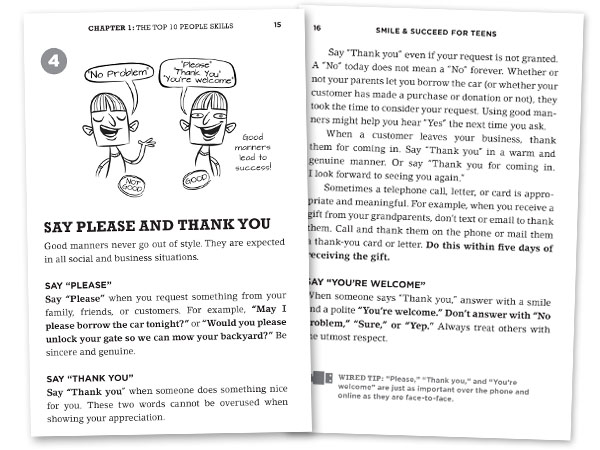 REFERENCES
Deming, D.J. (2015). The growing importance of social skills in the labor market (Working Paper No. 21473). Retrieved from National Bureau of Economic Research website: https://www.nber.org/papers/w21473.
ABOUT THE AUTHOR
Kirt Manecke is a an award-winning author and sales, marketing, fundraising, and business development specialist with over 30 years of experience surprising and delighting customers. Kirt's books have won 11 awards. Quick-easy social skills for teens! He spent nine months meeting with teens for his award-winning book on social skills for teens. Kirt is currently at work on two children's books. For more information, contact Kirt at Kirtm@SmiletheBook.com.