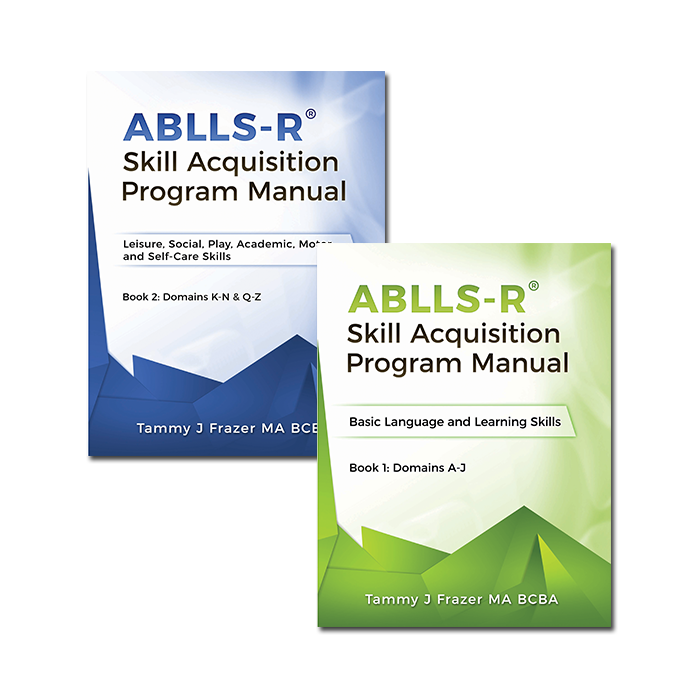 The development of these manuals is a culmination of years of clinical work involving direct ABA intervention, teaching, coaching, training, and clinical oversight to teams delivering ABA intervention.
I have always enjoyed seeing students' progress in their learning – knowing that the foundation of 'good teaching' is not only based on proper training, supervision, coaching and modelling – but also a standardized teaching approach that can be individualized for each student.
With a multitude of approaches and teaching methods being used to impact the potential of a student's learning and success, I became inspired to create a series of step-wise, quality Skill Acquisition Teaching Plans that provided a framework of consistency for Instructors and teachers who were working with the students.
I am excited to share with you the ABLLS-R® Skill Acquisition Program Manuals – created as companion manuals to Dr. James Partington's Assessment of Basic Language and Learning Skills – Revised (ABLLS R ®). We are confident that these plans will provide users a consistent framework for skill assessment, skill teaching and skill tracking for students with autism spectrum disorders.
In conjunction with the ABLLS-R®, the contents of the manuals provide information for each of the Task Codes in the ABLLS-R® curriculum for how to:
• Assess baseline performance levels for skills/tasks within the ABLLS R®
• Arrange the teaching environment for optimal teaching and learning
• Set up and administer prompts
• Implement and embed various teaching strategies to teach a skill
• Use Error Correction Procedures
• Collect data to measure and monitor progress
Both manuals include Companion Forms and Data Templates that are used along with the written Skill Acquisition Teaching Plans. These documents offer a user-friendly structure for setting up a student's program binder, as well as information for how to organize necessary information for teaching and monitoring student progress.
We trust you will find as much value in these manuals as we have, and that you will see continued success with your students learning.
The ABLLS-R® Skill Acquisition Program Manuals are currently available for pre-order. Head to our site for more details!
---
About The Author
Tammy J. Frazer is a Board Certified Behavior Analyst with over 18 years of experience working with individuals with autism and developmental disorders. She earned a Masters of Arts in psychology with a specialization in Applied Behavior Analysis from the University of Nevada, Reno and has been a BCBA since 2007. Tammy is the Founder and Director of On Solid Ground Inc, an organization in Barrie, Ontario that is committed to the delivery of quality, effective, and evidence based behavior assessment and intervention to individuals with autism and developmental disorders and delays.