The National Professional Development Center on Autism Spectrum Disorders holds an impressive wealth of information and resources for evidence-based practices for children with autism. We wanted to share their website as a resource to both parents and providers, since evidence-based strategies are so important in devising a home or school-based program for students with ASD. Specifically, we found the online learning and training modules by the NPDC on ASD to be extremely useful and – even better – accessible to anyone online.
For the following evidence-based practices (EBP), the NPDC on ASD has developed briefs with the following components:
Overview of the practice
Step-by-step instructions for implementation
Checklist to document the degree of implementation
References that support the efficacy of the practice
Each brief package comes in downloadable PDF formats for easy saving and printing. Some practices also come with downloadable data collection sheets and supplemental materials for teachers to use.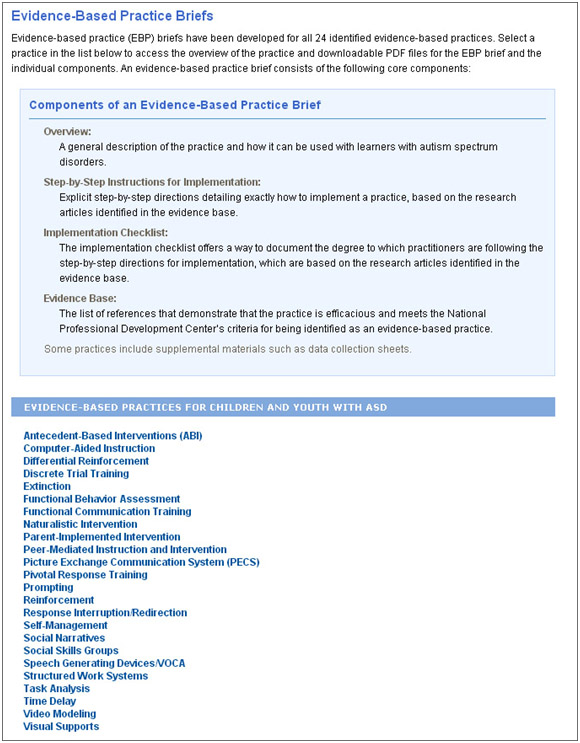 Additional resources provided by the NPDC on ASD include Learning Modules to accommodate children in early intervention (birth to 3 years).  The 10 Learning Modules touch upon:
Discrete Trial Training (DTT)
Functional Communication Training (FCT)
Naturalistic Intervention
Parent-Implemented Intervention
Picture Exchange Communication System (PECS)
Pivotal Response Training (PRT)
Prompting
Reinforcement
Structured Work Systems
Time Delay
Each module includes a pre-assessment, objectives, an overview of the evidence-based practice, detailed information about the use of the EBP, step-by-step instructions for implementing the practice, case studies, a summary, a post-assessment, frequently asked questions, and references at the end.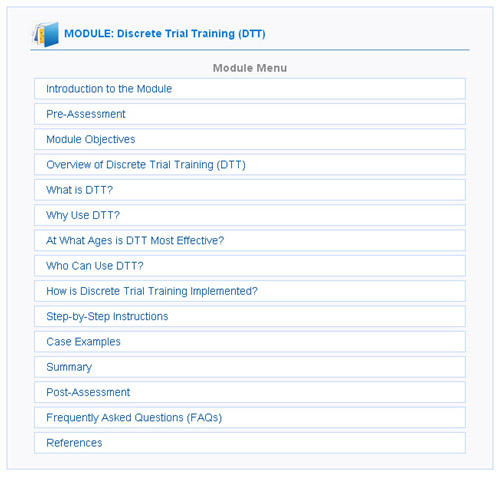 For more information on the NPDC, visit their website at www.autismpdc.fpg.unc.edu.