It's been a really exciting few months here at Different Roads to Learning and we wanted to share some of the highlights with you. Different Roads to Learning was one of ten small businesses selected for the CEO-UBS Small Business Advisory Program, a philanthropic partnership between UBS Wealth Management Americas and the William J. Clinton Foundation. Our App – Tell Me About It! – was developed by the incredible and innovative talent at inFusion, and is a product of this program.
The entire process was really exhilirating for all of us here. As a small business, we gained so much incredible knowledge and had the opportunity to work with a team of gifted individuals. And to top it all off, our App was unveiled at a dinner where we had the privilege of meeting President Clinton! That was a truly exciting night for all of us.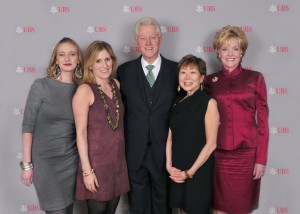 Julie and Abigail meet President Clinton along with our mentors Amy Butte and Sharon Sager
At the dinner, they even showed a short video about the making of Tell Me About It! which we wanted to share with you here. Along with interviews and demos, you'll learn about how and why we created this App for children with Autism and a bit more about Different Roads in general. You can also read the full press release for Tell Me About it here. We hope you enjoy it!
We also wanted to share the absolutely wonderful reviews of Tell Me About It! that we've received thus far from trusted sites devoted to reviewing Apps for children and those with special needs:
Best Apps for Kids: https://bestappsforkids.com/2012/02/tell-me-about-it-learning-language-by-receptive-funtion-feature-category/
I Heart This App: https://iheartthisapp.com/tell-me-about-it-an-app-to-teach-labelling-to-a-child/
Special Apps, Special Kids: https://specialappsspecialkids.blogspot.com/2012/02/app-review-tell-me-about-it-different.html
Tell Me About It! App Press Release, Page 1