For students on the Autism spectrum, having a strong and reliable therapy team to support individual needs can be an important factor in student success. When members of a therapy team are collaborating seamlessly, a student is more likely to have high quality support across all areas of development (communication, social, cognitive, play, motor, and adaptive skills).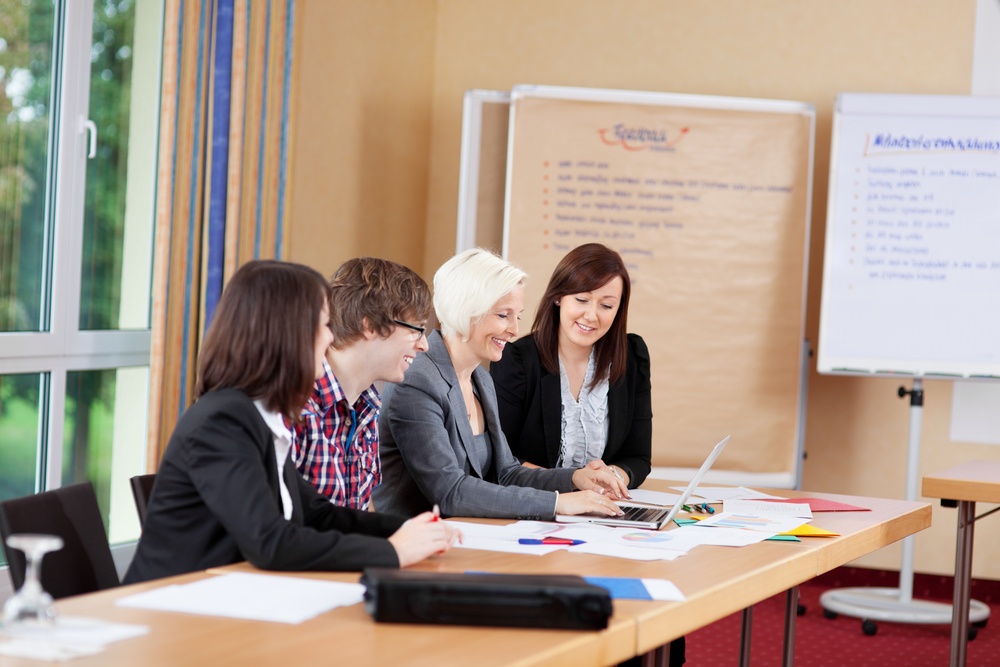 The pervasive nature of ASD across these areas means that multiple disciplines are necessarily involved in effective intervention (Donaldson and Stahmer, 2014). When we work together and have a narrow focus, we can help our students make a great deal of progress. Gone are the days of a Speech Language Pathologist, Physical Therapist or Occupational Therapist taking a student away for traditional pull out therapy and leaving no time for debriefing with the classroom team.
Who comprises the therapy team is determined on a case-by-case basis. You may be wondering where to start with this sometimes daunting task of building a strong and supportive team. Below I will discuss some strategies that are evidenced-based and the ways that I incorporate them into my busy life as a speech language pathologist.
Pairing
One of the first things that I always try to do is build rapport with staff, which is known as a behavioral principle called pairing. It is important to build rapport and/or pair with team members, especially if you are new to the team or if other new members have joined. It may sound like very basic advice, but as clinicians we are very busy and sometimes we feel that we do not have time for this piece. I am urging you to put this time with staff on the top of your priority list. Once you have a good rapport with team members, it allows you to share ideas and collaborate more easily and more effectively.
Sharing
The next tip I have is to share the goals your student is working on. If you are the teacher, share the student's IEP goals with the paraprofessionals and explain why you are teaching particular tasks. Knowledge is power! If you are the occupational therapist, please share your student's therapy goals with the team. Therapy takes place all day, across settings and across instructors. If the team does not know what the goals are, they will have no idea how to address them across the school day.
Reinforcement
Students and professionals benefit from reinforcement! People feel good about the work at hand when they receive positive reinforcement. Let the paraprofessional know that they are doing a great job with their student(s). Everyone likes to get praise for a job well done!
Data
Another way that we can assure that our collaboration is helping the student is by collecting daily data on skills from all domains (i.e. behavior, academic, communication). When we, as a team, create a data sheet that captures the skills and specific targets we are addressing, we can use this across the student's day. When we take this data and analyze the progress, we can all make informed decisions about a student's programming needs. I have included a free team-based daily data sheet from Stages Learning. You can use this data sheet to track a variety of skills.
In my 14 years practicing in the field, the majority of people that I encounter are driven by a desire to see their students. However, even with the best intentions, we may face barriers in collaborating with other staff members. Follow the tips mentioned above and reach out to colleagues who seem to need additional support. I try to continually assess the needs of the teams I work with throughout the year. Maybe the team needs a refresher on a certain skill area – see if you can work this into your yearly professional development time. When we work together as a team, we can help so many students achieve their goals!
---
ABOUT THE AUTHOR

Rosemarie Griffin, MA, CCC-SLP, BCBA is a licensed speech language pathologist and board certified behavior analyst. Currently she splits her time between a public school system and a private school for students with autism. She is passionate about lecturing on effective communication services for students with autism and has done so at the local and national level. Rosemarie also enjoys spending time with her family, playing the harp and shopping.
Article originally posted on Stages Learning Materials Blog.