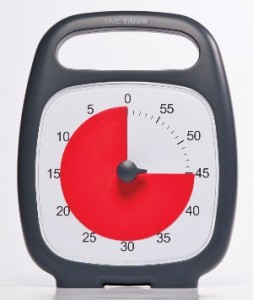 New products from Time Timer AND a sale? What words go together better than that? We're thrilled to introduce you to three new excellent products that raise the bar on that workhorse of a visual timer we've all come to love and depend on.
The brand new Time Timer PLUS comes with a portable handle, volume control for an optional alert when time is up, and a protective clear lens to protect the signature red disk. The Time Timer PLUS operates silently with no ticking and measures 7″ x 9″. The Time Timer PLUS contains all of the features you love and trust about the original timers with a fancy new makeover for only $36.95.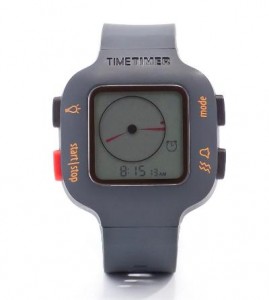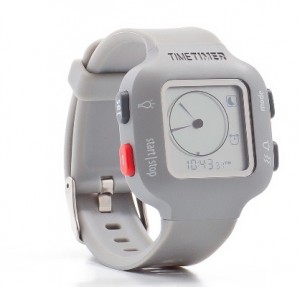 Another new and highly anticipated member of the Time Timer Family has arrived – The Time Timer Watch Plus for youth. In two lovely colors – light grey with white lettering or dark grey with orange – the Time Timer Watch PLUS allows you to watch your time and see it too. The watch has a sporty design and uses simple icons and a large display to ensure ease of use for all age and ability levels. Ideal for anyone who wants a discrete and portable visual timer, the Watch PLUS is customizable: there are two Time Timer modes (Original 60 minutes and Customized), vibrating and/or audible alerts and repeatable time segments for interval training. There is also a 12- or 24-hour clock with one alarm. The soft, silicon watch band measures from 4.75″ to 7″ making it perfect for children or adults with small wrists.
This week only, save 15% on the new Time Timer PLUS and the Time Timer Watch PLUS by entering the Promo Code BLOGTTN7 at checkout. Hurry! Offers like this don't last too long.
*Offer expires on March 19, 2013 at 11:59 pm EST. Not compatible with any other offer. Be sure there are no spaces after the Promo Code when you enter it at checkout.