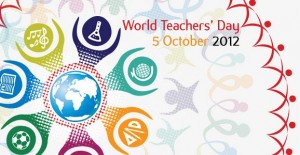 This special day aims to mobilize support for teachers around the world and to ensure that the needs of future generations will continue to be met by teachers. It has been held annually on October 5th since 1994, when it was created by UNESCO. This day celebrates the essential role of teachers in providing quality education at all levels.
Let's honor and celebrate all of the teachers around the world and the need to raise the status of the profession – not only for the benefit of teachers and students, but for society as a whole, to acknowledge the crucial role teachers play in building the future.
To express your own personal gratitude, you can send your teacher an e-card as a token of appreciation!
To send a World Teachers' Day e-card, click on the envelope icon below.