When you're in one-on-one sessions and get down on the floor with the kids, wouldn't it be wonderful to still have the benefits of a working surface that the child has complete visual and tactile access to? The brand new, innovative U-Play Mat is the answer! The U-shaped mat and 50 photo flashcards create a solid learning environment, promoting face-to-face interaction and eye contact.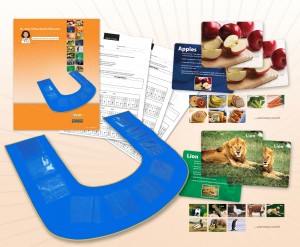 There are 10 clear pockets on the 4′ x 3′ mat which allows the child full visual and tactile access. The U-Play Mat comes with 2 decks of cards featuring Animals and Foods from the folks who brought you the Language Builder Picture Cards. Each deck has 50 cards with 25 matching pairs. Each card has a clear, photographic image with the corresponding label on one side, and fun facts on the reverse. These fun facts can serve as conversation starters to build interaction, vocabulary and language skills. You can also use the U-Play Mat with additional customized set of flashcards and images. There is a detailed Activity Guide for therapists, educators, and parents to organize and implement an education program. The guide comes complete with 19 custom-designed, reproducible data sheets to record responses and track progress.
This week only, save 15% on the new Dr. Jen's U-Play Mat for Education by entering the Promo Code BLOGUPM at checkout.
*Offer expires on June 26, 2012 at 11:59 pm EST. Not compatible with any other offer. Be sure there are no spaces after the Promo Code when you enter it at checkout